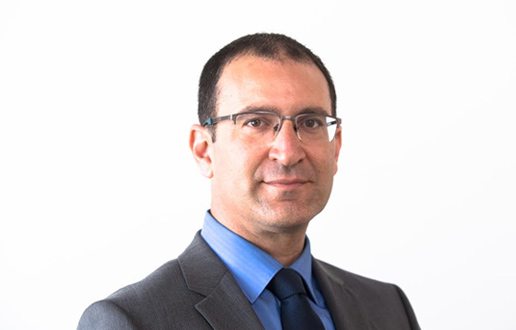 Electra City Tower
58 Harakevet St.
Tel Aviv
6777016

Zvi Gabbay
Dr. Zvi Gabbay heads our Capital Markets department. Zvi possesses extensive experience in Israel and in the United States, representing corporations and individuals in various aspects of their operations, mainly in the areas of financial regulation, securities, capital markets and international litigation.
Over more than 18 years of practice in the fields of financial regulations and enforcement, Zvi attained an esteemed reputation for representing clients before the regulatory authorities on matters pertaining to securities laws and financial regulation, for providing ongoing legal advice to private clients and to leading corporations in relation to their capital market and corporate governance needs, as well as for representing clients before various enforcement agencies during administrative inquiries and investigations.
Zvi specializes in securities law and in advising public companies, banks, investment houses and financial entities in relation to their activities in the global arena.
Zvi also represents clients before the regulatory authorities on matters pertaining to securities laws and financial regulation, and provides ongoing legal advice to individuals and leading corporations in relation to their capital market and corporate governance needs. Zvi also represents clients in securities-related enforcement proceedings, including criminal and administrative inquiries and investigations.
Zvi's vast experience includes roles as Head of Enforcement and member of the management of the Israel Securities Authority, as a lawyer in the New York office of Skadden, Arps, Slate, Meagher & Flom, as a prosecutor in the Tel-Aviv District Attorney's office, as a partner in a major law firm in Israel and as a founding partner of a boutique capital market firm.
Education:
JSD, Columbia University, New York, 2006

LL.M, summa cum laude, Columbia University, New York, 2004

LL.M, magna cum laude, in commercial law, Bar-Ilan University, Ramat-Gan, 2002

LL.B, Hebrew University, Jerusalem, 1999

Admission:
Member of Israel Bar Association since 1999

Member of New York Bar Association since 2005

News and updates - Zvi Gabbay:
July 4, 2019
The Law of Facebook Is Not the Law of Small Companies
In June, two seemingly unrelated events took place: during the first week of June the SEC filed suit in federal court against the company Kik Interactive, which raised about 100 million dollars in the summer of 2017 through the sale of tokens (cryptocurrency).
The token sold by Kik were designed to be used as a payment means for products and services distributed on a platform that Kik intended to launch based on blockchain technology. The vision was clear: to make the use of money and the need to convert state cryptocurrency to national currency redundant.
This week, Facebook announced the expected launch of a new digital currency - the Libra. This, too, is a digital token designed to be used as a payment means for products and services distributed through Facebook's platforms. Here, too, the express vision is to render the need for money, as well as the need for bank accounts, redundant, and to make the transfer of funds as simple as sending a photo on WhatsApp.
In the case of Kik, the SEC applied principles established in an opinion published in the United States in the 1940s, when a home refrigerator was still considered a luxury. It concluded that Kik's tokens, based on advanced technology whose implications on our lives we still cannot fully grasp, constitute securities, and that their sale must be performed through a prospectus.
In its suit, the SEC sought to seize the entire sum that was raised (plus interest) and impose a fine, as it believes Kik's tokens are essentially securities and the sale thereof in the absence of a prospectus is illegal.
But why do the tokens constitute securities? Just because! Because the SEC decided that since the Kik tokens are a project that has yet to be established, whose success depends on the efforts of the company's management and out of which investors are expected to gain profits, the tokens should be viewed as securities whose sale must be performed through a prospectus.
All Kik should have needed to do was to apply to the SEC and ask for a prospectus. Seemingly easy and simple. The problem is that while many companies have tried, none have succeeded, as the SEC does not wish to approve prospectuses for the sale of digital currencies.
While there were issuances done with SEC approval in reliance on the existing exemptions in American law, a "by the book" issuance never happened and likely never will, at least in the near future. Therefore, Kik did not wait for the SEC and enthusiastically promoted its own vision for creating an independent financial system based on its platform, through technology that will redefine the financial system as we currently know it. However, just like Galileo Galilei, it was confronted by the "church"—i.e. the SEC—which attempted to prevent progress with all its might.
Now, though, Facebook has come along, a corporate super power, joined by formidable business partners like Visa, Mastercard, Uber, Paypal, and others, and announced the launch of a project almost identical to that which Kik tried to launch two years before.
Both cases concern a money substitute that is designed to rely on social networks. In both cases, a nonprofit organization was established as part of the project to function as a central bank of sorts and which was charged with protecting the currency's stability. Both cases involve as yet undeveloped technology, to be based on blockchain technology. And both cases are not considered securities.
It will be interesting to see how the SEC responds now that it is faced with huge corporations rather than a small company on the verge of bankruptcy that dared to dream big. It is a very small feat, indeed, to challenge the weak and attempt to stop both progress and technology on their backs, especially those that will change the rules of the game before our very eyes.
The launch of Libra teaches us what we already know: technology cannot be stopped, even by the SEC. Moreover, as Galileo said, "And yet it moves."
Source: barlaw.co.il
June 25, 2019
Event on Investor Relations and Corporate Responsibility
Our firm hosted today an event in cooperation with the Israeli Investor Relations Forum on investor relations and corporate responsibility. Dr. Zvi Gabbay lectured on how corporate responsibility is perceived by regulators.
June 24, 2019
Hosting Pipelbiz Entrepreneurship Program
Our firm hosted today the participants of Pipelbiz's Entrepreneurship Program. Pipelbiz, the first and largest equity crowdfunding platform in Israel, is one of our clients. The program's co-sponsors include leading companies like Leumi Card and EY. Dr. Zvi Gabbay and Alon Anava from our Capital Markets Department, who are advising the entrepreneurs, talked about crowdfunding regulation in Israel and abroad.