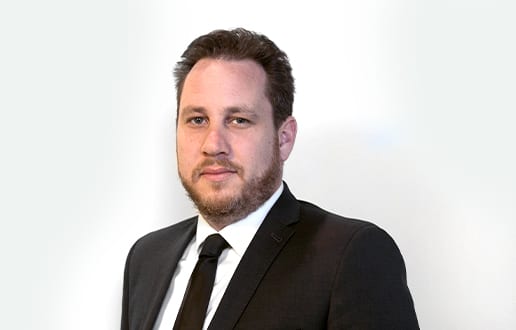 Electra City Tower
58 Harakevet St.
Tel Aviv
6777016
Eyal Nachshon
Eyal specializes in complex litigation in various areas of commercial and economic law, particularly in the fields of corporate and securities law.
Eyal has gained considerable experience representing economic bodies – banks, financial institutions, public companies, private companies, and senior businessmen – in high-volume, complex legal proceedings before the various courts, including district courts and the Supreme Court.
In particular, Eyal has extensive experience representing individuals and companies in class action suits, derivative claims, and control disputes, as well as in administrative petitions of an economic nature.
Before joining Barnea, Eyal served as a legal assistant to Justice Esther Hayut at the Supreme Court, and worked for a number of years at leading law firms in the practice areas of commercial-economic litigation and white-collar crime.
Eyal has been a tutor and a guest lecturer for various courses at Hebrew University, the University of Haifa, and the College of Law and Business in Ramat Gan.
Education:
Columbia Law School, New York (LL.M, Harlan Fiske Stone Scholar), 2011

University of Haifa (BA in economics, LL.B, cum laude), 2008

Admission:
Member of the Israel Bar Association since 2009

News and updates - Eyal Nachshon:
May 20, 2019
Institute of Certified Public Accountants and Association of Internal Auditors Petition Supreme Court
Our firm is representing the Institute of Certified Public Accountants and the Association of Internal Auditors in a petition with the Supreme Court against the Government Companies Authority (GCA). It is requesting that the court revoke the GCA circular stating that an internal auditor of government companies rated 7 and above must be a salaried employee and not outsourced. The petition was filed by Advs. Zohar Lande, Eyal Nachshon, and Adi Shoham of the Litigation Department.
May 7, 2019
Administrative Petition Filed Against Our Client Following Tender Win
Our firm is representing the Tel Aviv Taxi Organization in an administrative petition filed against after its win in the Tel Aviv cluster of a two-stage competitive process conducted by the Ministry of Transport. The organization is represented by Advs. Zohar Lande, Eyal Nachshon, and Adi Shoham of the Litigation Department.
March 26, 2019
Barnea Representing Knight Therapeutics in Minority Discrimination Lawsuit in Israel
Our firm is representing Knight Therapeutics, a Canadian public company that holds 28% of Israeli pharmaceutical company Medison's shares, in a lawsuit alleging the deprivation of its rights as a minority shareholder in Medison. The company is represented by Advs. Zohar Lande, Eyal Nachshon, Omer Keydar and Eitan Sivan of our Litigation Department.