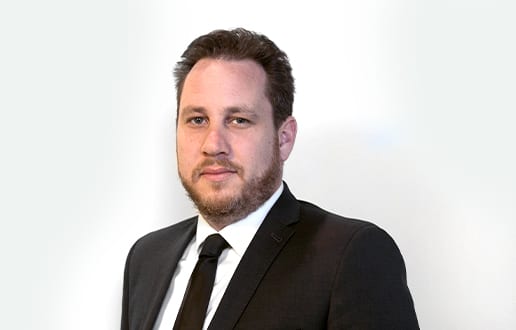 Electra City Tower
58 Harakevet St.
Tel Aviv
6777016
Eyal Nachshon
Eyal specializes in complex litigation in various areas of commercial and economic law, particularly in the fields of corporate and securities law.
Eyal has gained considerable experience representing economic bodies – banks, financial institutions, public companies, private companies, and senior businessmen – in high-volume, complex legal proceedings before the various courts, including district courts and the Supreme Court.
In particular, Eyal has extensive experience representing individuals and companies in class action suits, derivative claims, and control disputes, as well as in administrative petitions of an economic nature.
Before joining Barnea, Eyal served as a legal assistant to Justice Esther Hayut at the Supreme Court, and worked for a number of years at leading law firms in the practice areas of commercial-economic litigation and white-collar crime.
Eyal has been a tutor and a guest lecturer for various courses at Hebrew University, the University of Haifa, and the College of Law and Business in Ramat Gan.
Education:
Columbia Law School, New York (LL.M, Harlan Fiske Stone Scholar), 2011

University of Haifa (BA in economics, LL.B, cum laude), 2008

Admission:
Member of the Israel Bar Association since 2009

News and updates - Eyal Nachshon:
January 2, 2020
NIS 10M Lawsuit against Yaron Roziak and Rabbi David Ifergan
Our firm is representing Kobi Zaid, the founder of Zaid Orniv, in a shareholder dispute and a contract enforcement lawsuit against the businessman Yaron Roziak and Rabbi David Ifergan.
January 1, 2020
Eyal Nachshon and Amichay Tessler Op-Ed: New Supreme Court Ruling Will Allow Businesses to Repel Class Actions
Eyal Nachshon and Amichay Tessler of our Litigation Department published an op-ed in Dun's Calcalist on the new Supreme Court ruling that would-be plaintiffs must approach defendants before filing a class action suit. According to Eyal and Amichay, this ruling is significant news for private businesses seeking to repel class action lawsuits.
December 29, 2019
Is It Necessary to Send a Demand Letter a Defendant Prior to Filing a Class Action Suit?
In December 2019, an expanded panel of seven Supreme Court justices published a precedential and important decision considering the issue of whether a party seeking to file a class action suit against a government agency must send a demand letter to the agency in advance of filing.