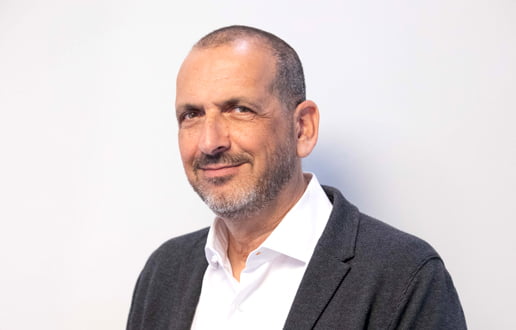 Electra City Tower
58 Harakevet St.
Tel Aviv
6777016
Michael Barnea
Micky Barnea , the firm's Managing Partner, is recognized as one of Israel's leading corporate lawyers. His diverse practice encompasses corporate, securities, technology, and cross-border matters.
Micky is one of the strongest M&A transaction partners in the country, combining exceptional legal knowledge with deep industry knowledge.
With over 30 years' experience in both corporate and securities law, Micky plays a lead role acting for some of Israel's largest public and private companies, as well as for prominent international corporations, on their most significant transactions, including strategic alliances, joint ventures, partnerships, and reorganizations.
He also counsels clients, both foreign and domestic, on their day-to-day legal matters, and accompanies foreign corporations in establishing and structuring their Israeli operations.
Micky offers his clients leading market knowledge, built up over years of working with clients from across all industries.
In 2019, Micky accompanied significant merger and acquisition deals in the Israeli market. He represented Azrieli Group in the sale of its holdings in Supergas, Cryolife in a strategic transaction with the Israeli medtech startup Endospan, the private equity group Bridgepoint in its acquisition of control in the Israeli company Qualitest, Danel Group in its strategic acquisition of 51% of Levinger Group, and Johnson and Johnson in its various investments in Israeli companies.
Micky is greatly respected as a legal advisor to public companies traded on both Israeli and foreign stock exchanges, as well as to foreign investors with stakes in Israeli publicly traded companies.
In the technology sphere, Micky advises various types of entities in the Israeli ecosystem: technology companies; local subsidiaries of multinational corporations; accelerators and incubators; R&D centers; VC, PE, and CVC funds; and startups. He also oversees prominent cross-border technology-related transactions.
Micky is a well-known figure in the Israeli hi-tech ecosystem. He lectures on a regular basis to various Israeli accelerators, in addition to serving as a mentor for young entrepreneurs. 
Prestigious directory Chambers and Partners consistently ranks Micky as a leading lawyer in the Corporate/M&A and TMT practice area. The guide describes him as "really brilliant and very straightforward. Problem solver," and as "instrumental for the success of the transaction." The Chamber's HNW guide for 2019 ranked Micky as an expert in the field of Private Wealth Law, as well. The guide describes him as someone who "takes nothing for granted and [is] very thorough."
Legal 500 describes him as "one of the top lawyers in commercial and corporate in Israel. He is a proactive and high-quality lawyer, always available." The directory also praises him as "a brilliant lawyer, the quality of his work is perfect, his knowledge and experience with startups and hi-tech companies is second to none."
The IFLR1000 directory steadily ranks Micky for his work in the Capital Markets: Equity and M&A sector. It pronounced him "a professional" and also "a deal maker and a doer. He focuses on the right topics and is very experienced." 
The 2020 Who's Who guide also ranked Micky as a leading lawyer in M&A, Capital Markets and Corporate Governance. Micky was ranked among the top 20 lawyers from Israel.
In addition, Micky serves as the Middle East Liaison Officer of the IBA Law Firm Management Committee.
Education:
Tel Aviv University LL.B. 1992
Admission:
Member of Israel Bar Association since 1993
News and updates - Michael Barnea:
March 16, 2021
Technology IPOs – A Meeting of Cultures at the Tel Aviv Stock Exchange
Israeli tech companies have recently joined the wave of initial public offerings on the Tel Aviv Stock Exchange. This is not the first time tech companies have gone public on the TASE and it will take some time to see if this is a real trend or a temporary phenomenon motivated by the tide of capital markets activity in the coronavirus era. Still, the growing number of high-tech companies wishing to go public, together with the ongoing overhaul of the Tel Aviv Stock Exchange, may indicate that local offerings will become a sustainable addition to Israeli high-tech's known exit options—M&A or IPO on the US markets.
Either way, an IPO of an Israeli high-tech company on the TASE is no less than a meeting of cultures. It requires some level of adaptation, both on the part of the capital market, which takes on a company with unique characteristics, and on the part of the companies, which must adjust to the status of a public company.
The Israeli capital market is accustomed to closely held companies controlled by an individual, family, or holding company. Such controlling shareholders sell a minority stake to the public and leave control in their own hands, along with the freedom to steer the company as they wish. The corporate regime governing Israeli public companies has developed around protection of the public against the controlling party's power. Such protections are irrelevant to most high-tech companies, whose holding structure is decentralized, after rounds of capital raising and share allocations to employees.
Thus, for example, tech companies with dispersed shareholding need to provide solutions for a different concern. The fear there is that shortly after the IPO, the company's entrepreneurs and primary shareholders may sell their holdings and leave the public with an empty shell. This concern has led underwriters to make new IPOs contingent upon stricter lock-up periods (which bar post-IPO sales by existing shareholders), beyond the existing Israeli regulatory requirements.
High-Tech Companies' Common Track  
For high-tech companies, the road to the TASE requires many more changes. In these companies, the custom, developed over decades, has been to adapt their corporate structure to that common in the international technology investments market. As early as day one, companies adopt English language corporate documents in anticipation of welcoming foreign investors. Later, they prepare for the possibility of merger and acquisition transactions, be it to an investment entity or a strategic buyer.
Companies and investors also prepare for the possibility of an exit by means of an IPO in the United States. Preparation for the possibility of a public offering on the Tel Aviv Stock Exchange, with its unique characteristics, never even used to be considered.
Changes to be Made
Tech companies arriving at the IPO phase need to make three significant changes—capital structure, corporate regime, and transparency.
Capital Structure
Companies usually attempt an IPO after a series of capital raisings that create different classes of shares. The classes of shares form a hierarchy of rights, with recent investors at the top and entrepreneurs and employees at the bottom. A TASE IPO involves forgoing excess rights attached to different classes of shares and flattening the company's capital structure to a single class of share.
The more differences exist between the shares' rights, the greater the conflicts of interest and the potential for disputes among the shareholders, when they consider initiating the IPO and consolidating the company's capital structure.
Another challenge presented by the capital structure of tech companies going public is the number of existing shareholders. Tech companies may have aggregated dozens of shareholders—entrepreneurs and investors, as well as employees and consultants who hold options and shares. That number may be even greater, for instance in companies who raised capital through crowdfunding. Managing the IPO process with a large number of shareholders, interested parties, and parties with various degrees of involvement may be particularly difficult and may even jeopardize the IPO's success. 
Corporate Regime
The corporate regime of a high-tech company is enshrined in its articles of association, and is built gradually over the capital raising rounds undertaken by the company. This regime includes allocation of representation in the company's board of directors between the entrepreneurs and the investors. It also grants special rights to investor groups whose consent is required on important matters and secures their rights in the course of future capital raisings.
The offering and registration process on the TASE involves elimination of the previous corporate regime and replacing it with a regime of public companies. There will no longer be a board of directors comprised of holders of rights granted through past capital raising rounds. Instead, there will be a board of directors elected annually with external directors appointed by a special majority for a three year term. This also nullifies special decision-making rights, with decisions now to be made by a regular majority or a supermajority, where the law requires such.
Transparency
Finally, companies also need to become transparent. Tech companies are clandestine creatures by nature. They take care to keep their affairs secret. From the company's value during capital raisings to strategic agreements and business results, few are privy to such information. Only board of director members and large investors are entitled to information. No one else, including shareholders and employees, is exposed to it.
An IPO, however, exposes a company. The primary theme of an IPO prospectus is full disclosure, centered on bringing all relevant information to the public. As a result, employers, customers, suppliers, and competitors may benefit from the disclosure of company secrets.
Here, too, it is possible not all interested parties will be equally welcoming of exposure. Since the rules of disclosure are strict, the choice may be between avoiding the IPO and a conflict with some of the company's shareholders, investors, customers, or strategic partners.
Shareholders' Challenges
While we wait to see if the Start-Up Nation establishes roots in the Tel Aviv Stock Exchange, it is important to understand that these tech companies' entry into the Israeli capital market requires adjustments from both parties, the local market itself and the companies and their shareholders.
For shareholders, the challenge is uncertainty. For them, a public offering is not in and of itself an exit event, but only a hope for the future. As a first step, in order to make the IPO possible, they should make a series of adjustments that involve forgoing their rights. They do so with the hope that when the lock-up period ends they will be able to trade their shares, if at that time the company's performance and marketability will be favorable. The assumption is that the advantages of the offering—making the company accessible to public capital raisings and creating the possibility for shareholders to realize their investments—outweigh the disadvantages associated with uncertainty.
March 12, 2021
High-Tech Companies' IPOs – Meeting of Cultures on the Tel Aviv Stock Exchange
The corporate regime of public companies in Israel has developed around public protection against the controlling shareholder. These protections are not relevant to most high-tech companies, whose holdings are decentralized. Globes has published an article by Micky Barnea on this subject.
February 23, 2021
Dun's 100: Top 25 Law Firms' Senior Partners Forum
Dun's 100 released yesterday its rankings of leading Israeli law firms. In a Calcalist article covering the launch event, former justice minister Avi Nissenkorn was interviewed. The article also featured an interview with Micky Barnea.  "We are in the midst of a year of attrition, a feeling shared by law firms, individual Israelis, and the political system. We have become accustomed to the reality of a continuous attack on, and thus erosion and damage to, the justice system."