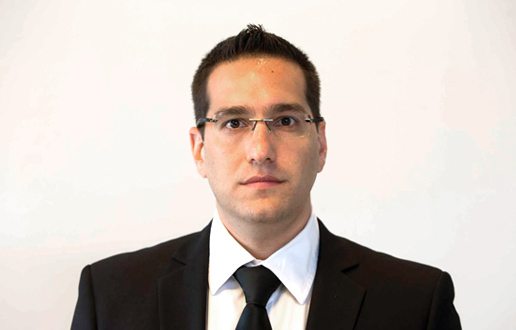 Electra City Tower
58 Harakevet St.
Tel Aviv
6777016
Daniel Israeli
Daniel is a lawyer in the firm's Capital Markets department, specializing in providing advisory services to companies on legal issues relating to the capital market & securities and corporate law.
Daniel has experience in providing legal advice to public and private companies in relation to various aspects of corporate law and securities law, including IPOs and the subsequent offers of securities, debt and equity offerings, public and private placements and tender offers. All this in addition to the on-going corporate and securities advice and representation of the firm's clients before the Israeli Securities Authority and at the Tel-Aviv Stock Exchange Ltd.
Daniel provides legal advice to a wide range of investment funds, financial entities, portfolio management, investment advisers, investment marketers and underwriters (including representing underwriters in public equity offerings in the NASDAQ). Daniel also advises on issues related to virtual and digital currencies and blockchain technology.
Prior to joining our firm, Daniel worked at a law firm specializing in the capital market, investment funds and financial entities and served as a teaching assistant in a corporate law course at Sha'arei Mishpat Law School.
Daniel is a member of the high-tech committee of the Israel Bar Association and the capital markets and Business forum of the Israel Bar Association.
Education:
Sha'arei Mishpat Law School (LL.B., specializing in commercial law), 2013

Bar-Ilan University (LL.M., specializing in commercial law), 2014.

Admission:
Member of Israel Bar Association since 2014

News and updates - Daniel Israeli:
September 13, 2018
SEC Takes First Action against Crypto Hedge Fund
Adv. Daniel Israeli was interviewed by Calcalist following the SEC's decision to fine an unregistered crypto broker-dealers and its owners.
July 17, 2018
Approved by the SEC – Security Tokens Exchange in the US
Coinbase, one of the leading cryptocurrency exchanges in the US, received approval from the US Securities and Exchange Commission (SEC) and the Financial Industry Regulatory Authority (FINRA) to list for trading digital currencies considered to be securities (security tokens). Coinbase has thus become the first US federally-regulated platform for trading security tokens.
July 1, 2018
Asset-Backed Digital Currencies: Advantages and Challenges
Virtual currencies have dominated investment conversation in the past two years, and the world is intrigued by this new trading method. While most of today's cryptocurrency investors are sophisticated or "main street" investors, we are seeing more and more sophisticated investors (investment funds, financial instruments, and private accredited investors) entering the crypto market.
The ICO market to date has been characterized by high volatility and instability, and perceived as a high-risk investment. One of the reasons for this is that a digital currency's value is determined partly by its technology, but primarily by the confidence the currencies' buyers give to those behind the venture, the currencies' trade liquidity, and even the volatility in the Bitcoin exchange rate (although this is not directly related to the said digital currency).
While the cryptocurrencies market remains speculative, and competition between cryptocurrency entrepreneurs continues to rise, entrepreneurs are consistently trying to create a unique and stable cryptocurrency fit for the use and investment of "main street" investors. The hope is that a stable cryptocurrency will add a layer to the accredited investors' financial instruments and maybe also increase such cryptocurrency's ability to be used as a method of payment.
The race to develop a new, unique and reliable digital currency with low volatility has prompted entrepreneurs to scale the link of blockchain technology and mainstream investments, thus creating a new wave of cryptocurrencies backed by commodities or assets.
Backing digital currencies with commodities (such as oil, gold, diamonds, etc.) or fiat (such as US dollars, euros, etc.) has many advantages. It reduces price volatility and opens the blockchain to a new kind of investors and traders (without even touching on the use of such digital currencies as actual methods of payment).
For example, ZrCoin created the first commodity-backed digital currency by pegging its value to the company's production of industrial materials (Zirconia – ZrO2). Other entrepreneurs quickly followed and released their own asset-backed cryptocurrencies to raise capital funds (such as Cedex and Carats for diamonds and Tether for USD). In addition, entrepreneurs are also trying to make the bonds market (a market inaccessible to most private investors) available in the US and Europe by means of a currency backed by such bonds. This will make the market accessible to investors all over the world, without them having to contact a broker and meet minimum conditions to purchase such bonds.
Digital currencies backed by actual assets also receive their full value on the day of the ICO. This reduces the uncertainty of whether or not the future platform will be useful, since these currencies are backed by the tangible value of the asset (i.e. fiat, commodities). In addition, such digital currencies may be a decent replacement for traditional investments in today's capital markets (since due to smart contracts, the execution of a transaction is faster and easier, and also reduces the costs of capital markets middlemen).
However, with the creation of asset-backed digital currencies, certain material legal issues have arisen. Commodity-backed digital currencies may be considered financial products and thus require the approval of the relevant financial regulator. On the other hand, fiat-backed digital currencies may be considered as actual currencies that need to be supervised by a central bank.
The regulatory challenges of developing a new crypto that will connect mainstream and sophisticated investors to the blockchain market, as well as a crypto whose value is dependent on tangible assets, should be considered before initiating such fascinating venture.
In order to adjust this new blockchain technology to traditional law and regulation, creative legal solutions are necessary to ensure such a venture is both innovative and successful.
Source: barlaw.co.il