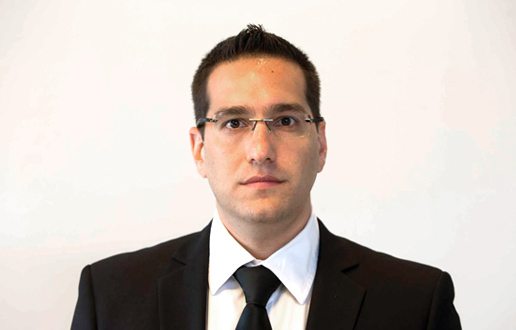 Electra City Tower
58 Harakevet St.
Tel Aviv
6777016
Daniel Israeli
Daniel is a lawyer in the firm's Capital Markets department, specializing in providing advisory services to companies on legal issues relating to the capital market & securities and corporate law.
Daniel has experience in providing legal advice to public and private companies in relation to various aspects of corporate law and securities law, including IPOs and the subsequent offers of securities, debt and equity offerings, public and private placements and tender offers. All this in addition to the on-going corporate and securities advice and representation of the firm's clients before the Israeli Securities Authority and at the Tel-Aviv Stock Exchange Ltd.
Daniel provides legal advice to a wide range of investment funds, financial entities, portfolio management, investment advisers, investment marketers and underwriters (including representing underwriters in public equity offerings in the NASDAQ). Daniel also advises on issues related to virtual and digital currencies and blockchain technology.
Prior to joining our firm, Daniel worked at a law firm specializing in the capital market, investment funds and financial entities and served as a teaching assistant in a corporate law course at Sha'arei Mishpat Law School.
Daniel is a member of the high-tech committee of the Israel Bar Association and the capital markets and Business forum of the Israel Bar Association.
Education:
Sha'arei Mishpat Law School (LL.B., specializing in commercial law), 2013

Bar-Ilan University (LL.M., specializing in commercial law), 2014.

Admission:
Member of Israel Bar Association since 2014

News and updates - Daniel Israeli:
May 15, 2018
Court Ruling: Bank Must Accept Money Originating from Digital Currencies
This month, an Israeli district court deliberated a motion for an interlocutory order against Bank Hapoalim. The order would obligate the bank to accept the transfer into a customer's account of money that constituted proceeds from a sale of digital coins transacted outside of Israel.
May 14, 2018
Ethemba Capital Selling Control in Avgol to Indorama Ventures
Our firm is representing British private equity firm Ethemba Capital in its sale of control in Israeli company Avgol Nonwoven Industries Ltd. to Indorama Ventures Spain S.L., a chemical manufacturer whose shares are traded on the Thai stock exchange. The price of the sale is valued at NIS 1.7 billion.
May 13, 2018
Check-Cap Ltd. Completes Public Offering on NASDAQ
Barnea represented the US underwriter H.C. Wainwright Co., LLC in the public offering transaction issued by Check-Cap Ltd. via a prospectus on NASDAQ. Check-Cap Ltd. raised $20.2 million in gross proceeds, including in the exercise of an overallotment option, in shares and warrants. Check-Cap Ltd., an Israeli clinical-stage medical diagnostics company, is developing C-Scan®, a capsule-based system for preparation-free colorectal cancer screening.