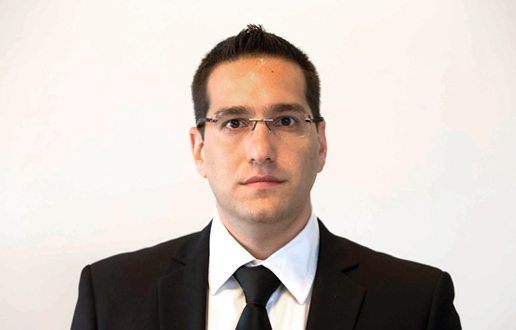 Electra City Tower
58 Harakevet St.
Tel Aviv
6777016
Daniel Israeli
Daniel is a lawyer in the firm's Capital Markets & Securities department, specializing in providing advisory services to companies on legal issues relating to the capital market & securities and corporate law.
Daniel has experience in providing legal advice to investment funds, financial entities and public and private companies in relation to various aspects of corporate law and securities law, including IPOs and the subsequent offers of securities, public and private placements and tender offers. All this in addition to the on-going corporate and securities advice and representation of the firm's clients before the Israeli Securities Authority and at the Tel-Aviv Stock Exchange Ltd.
Daniel provides legal advice to a wide range of funds, portfolio management, investment advisers, investment marketers and underwriters (including representing underwriters in public equity offerings in the NASDAQ).
Prior to joining our firm, Daniel worked at a law firm specializing in the capital market, investment funds and financial entities and served as a teaching assistant in a corporate law course at Sha'arei Mishpat Law School.
Daniel is a member of the high-tech committee of the Israel Bar Association and the capital markets and Business forum of the Israel Bar Association.
Education:
Sha'arei Mishpat Law School (LL.B., specializing in commercial law), 2013

Bar-Ilan University (LL.M., specializing in commercial law), 2014.

Admission:
Member of Israel Bar Association since 2014

News and updates - Daniel Israeli:
April 5, 2017
Issuance of a New Series of Bonds
Barnea & Co. represented Avgol Industries 1953 Ltd in connection with the issuance of a new series of bonds in the amount of NIS 197 Million. Avgol is one of the biggest manufacturers in the world of non-woven fabrics for the hygiene market. Its securities are traded in the leading indices on the Tel Aviv Stock Exchange.
March 27, 2017
Medigus Ltd. Completed a Nasdaq IPO
Barnea & Co. represented a group of US underwriters, led by H.C. Wainwright & Co., LLC, in the process of submission of Medigus Ltd. of a prospectus for the Nasdaq listing. Medigus raised USD 7.5 million and will be traded on Nasdaq in parallel with its listing on the Tel Aviv Stock Exchange. Medigus Ltd is an Israel-based company active in the medical sector. It specializes in developing endoscopic procedures and devices.
December 29, 2016
Innovations in the Israeli Partnerships Legislation
In order to improve the Israeli partnership market and in order to bridge the wide gap that exists between partnership laws in Israel and the partnership laws in other countries, in December 2016, the Ministry of Justice published a draft Memorandum of Law – Partnerships.